Mega Fortune Dreams
Casino Slots Online Free Bonus Rounds
Three bonus rounds are featured in Mega Fortune Dreams.
You will see an
animated Wheel of Fortune graphic. Stop the wheel and you will see your prize.
In the first two rounds, spin for prizes of 20-60 coins and 60-140. You go to
the next Bonus Game if the stopped arrow(s) points at you.
The last Bonus
Rounds features prizes ranging from 500 to 1.500 coins. In this round, players
compete for the final Mega Jackpot.
This game features three progressive
bonus rounds.
This game features free spins. If a player gets three or more
spinning diamonds on the reel, which indicate Scatter symbols, the game goes
into an exciting Free Spin. If the reels reveal three Scatter symbols, the
player has won ten Free Spins (four Scatter symbols grant 15 and five grant 20
Free Spins). The Free Spins occur in both the main game and during a re-spin. A
winning combo that happens in Free Spins results in triple winnings!
Casino Slots Online Free Games Info
Type of Game: Video Slot
Number of Paylines: 20 Lines
Reels: 5 Reels
Features: Multiple Free Spins, Multipliers, Wilds, Scatters, Bonus Rounds
Theme of the Game:Riches and Fortunes
Which Casinos Have:Mr. Green, Vegas Paradise
Have Progressive jackpots? No
Min Bet: 0.20 Credits
Max Bet: 80 Credit(s)
Bonus Game: Yes
Free Spins: Yes
CHARACTERS AND SYMBOLS
Characters of the Game
Indulge your dreams with a fantasy character in this game. The animations feature cigars, sparkling jewelry, luxury yachts and fancy cars parade past you on the screen.
Symbols
Wilds are symbolized by palm trees. Scatters are glittering, animated diamonds. The Bonus Game mode is symbolized with a spinning wheel of fortune graphic.

Summary
Mega Fortune Dreams is made by Netent Video. The game is fully customizable.
You can set sound, graphics and animations to your liking. A quick spin
button allows you to turn on a quick play module. A player can view his or
her winnings easily by clicking on the pay table. There is much opportunity
for winning big jackpots. The Rabid Jackpot feature is created locally by
the players using a single online gaming feature. The Major Jackpot and the
Mega Jackpot are combined from the added betting of players in different
casinos connected to the same online network.
Mega Fortune Dreams Screenshot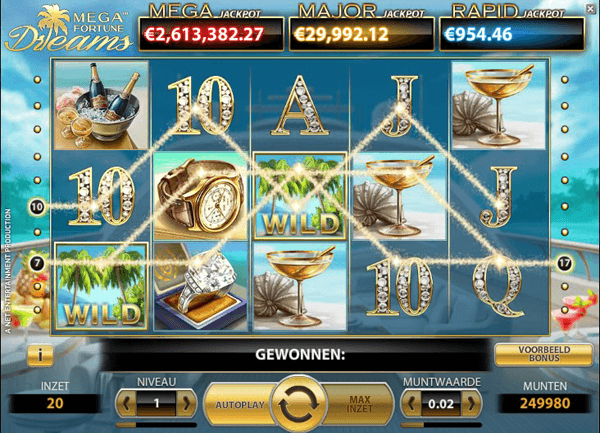 Mega Fortune Dreams NetEnt Screenshot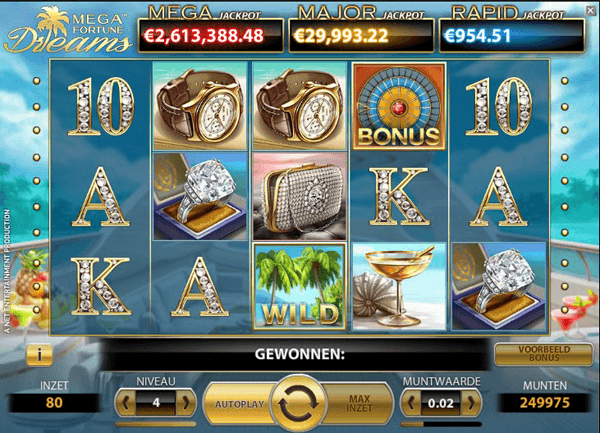 Mega Fortune Dreams
Mega Fortune Dreams give 20 paylines and entices players with five distinct reels. Twenty bet lines are available. Mega Fortune Dreams is an exciting video slot game with huge potential for payoff. Stunning animation and thrilling features make this an exciting, rewarding game. The payout percentage in theory is over 96%, making it a great choice for the keen gambler. You win when your bet line shows at least three of the same symbols together on a bet line, lined up on reels from left to right.
Frequency of Bonus Rounds
7
Real Money Payout Percentage 96.00%
7